This painting of the Aioli Gourmet Dinner Club hangs in the Ogden collection in New Orleans. It was composed of a group of plantation owners who would gather for extravagant meals in Iberia Louisiana. Each man would bring his own wine but the host would provide the aioli. Women were not invited and were expected to do the cooking. While in Louisiana we too like to eat extravagantly and to slather stuff with mayo but our dinner club is gender inclusive.
Including these fierce ladies. We had the pleasure of staying in New Orleans with Lilly's longtime buddy Sally. She lent us bikes for our belly driven exploration.
It was great fun and delicious. Our food exploits in no particular order.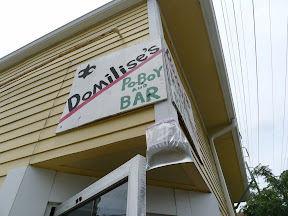 We went to Domilise's PoBoys. This place has received a lot of good press. I first saw it on No Reservations. Thankfully it is still deserving of the hype.
Here they are placing seafood into the fryers. No frills just good fried stuff.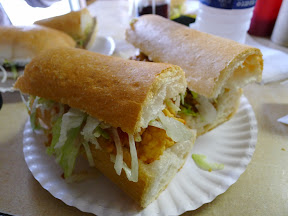 We tried a few including shrimp and oyster. But catfish was our favorite with mayo and hot sauce.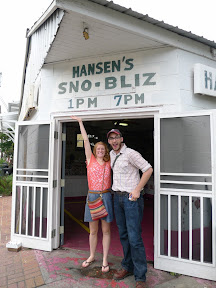 Since it is summer New Orleans is thick with snowballs. This is the big easy's take on shaved ice.
We went to Hansen's which uses as Blitz brand shaver and hence calls their a snow-blitz. But what ever you call it, it's real good.
We got peach flavored with a scoop of ice-cream in the bottom.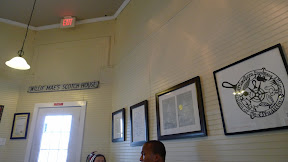 Then over to Willie Mae's Scotch House for fried chicken. This soul food place was awarded a guardian of tradition award for their high quality food. You can see the award on the wall farthest to the right.
The fried chicken is remarkable. Unlike anything we've had before. Flaky crust, juicy meat, and a spicy aftertaste. All served with red beans and rice. Worth our trip alone.
Then a stroll around city park and a stop by at the NOMA art museum.
This worked up an appetite for sausage. So we went to a longstanding grocery with lots of Louisiana meat products.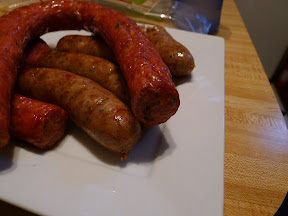 We got crawfish sausage (above) and boudin (below). Boudin is a blood sausage made throughout Louisiana. We got the white version but it also come in black. Instead of being bound with oats like Irish pudding it is thickened with rice. As you can see in the detail shot. It's a creamy, delicate sausage with a little bit of spice. Very tasty, I wish more regions made it.
Oh yeah...then we also ate oysters at Superior seafood, tongue on rye at Stein's Deli, and donuts at our favorite shop Blue Dot.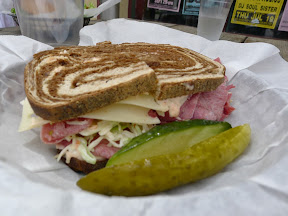 Not bad for 48 hours. Al and Lil's Aioli Club is adjourned.
Next stop TX. First stop Houston. Not sure what to expect. But they have lots of art and lots of people. There is sure to be something interesting and/or delicious around.