Houston is weird and proud of it. Just our kind of place. It is home to the The Orange Show. A project of just one man Jeff McKissak. He wanted to build a place to demonstrate the power of oranges. He constructed a theater from concrete and found objects to stage his elaborate juicing ritual. The structure is impressive and quirky. The show itself only ran for a few years at the end of the 60's. It was a modestly attended roadside attraction and never the inspiring orange flavored destination McKissak had anticipated. However, more recently it has become a must see for enthusiasts of outsider and visionary art. It is a monument to how bizarre and charming human ingenuity can be. We are very glad we saw this.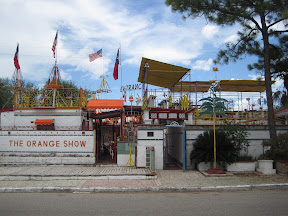 We also made it to the beer can house. A house outfitted with thousands of beer cans. It is that simple and that weird. In the world of quirky art less is morp.
Delightful quirkiness extends to Houston's food scene as well. Which is one part deep south (since it is still close to Louisiana and the gulf), one part Mexican (since it is close to Mex), and one part Vietnamese (for unknown reasons).
In our time in Houston we got some great gumbo at Goode's Seafood.
at Phamily Bites the pho food truck...
We got bahn mi.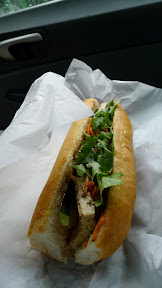 And later went to Mai's for dumplings soup.
We also particularly liked our tacos at Laredo Taqueria. The chichrones we amazing and the spiciest thing we've had in a long time.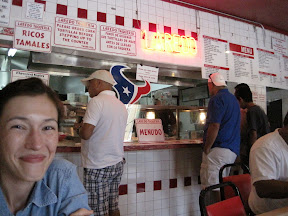 Does't look appetizing in the pic I know. But trust me it's some rockin' pig skin.
Next to Austin and central Texas. Famous for it's BBQ. I think we'll get some...