So we spent the day in Austin. One very full day. We kinda love it here and wish we had budgeted more time. But we left plenty for our next visit.
We were graciously hosted by the Hejl family. Matt was our intrepid chauffeur and guide to this fine city. Below we are looking quizzically with a picture of Oscar Wilde outside the Ransom Center archives. This Place was amazing. We saw so much, most of which could not be photographed, but here are some highlights...
First edition Moby Dick
Plates from William Blake's Book of Job
Notes in the hand of Jean Jacques Reasseau
Hand written manuscript pages of Infinite Jest
Oh and a Guttenburg Bible (we got a pic of this below).
But then we switched gears from high culture to quirky culture and went to the Museum of Ephemerata. http://www.mnae.org/ . A curiosity museum run out of the house of a lovely young family in East Austin.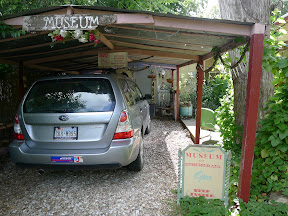 They have amassed strange and stranger stuff in their living room and offer tours.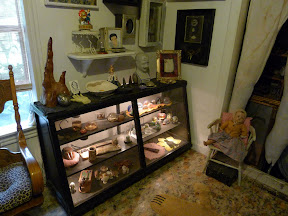 A highlight for us were cigarette butts supposedly smoked by Bahktin (left) and Marilyn Monroe (right). We happily suspend our disbelief and recommend you do too if in Austin.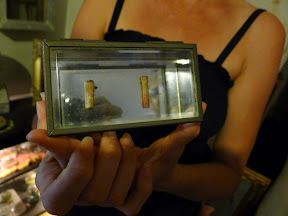 The Husband who co-curates this quirky museum also has an interesting blog on innovative uses of garbage http://cityoflivinggarbage.blogspot.com/ . All worth checking out.
But as always we ate too much again. We started the day with a selection of Oysters at Perla's. Shingoku...
And Shiny Sea PEI. Both amazing and memorable.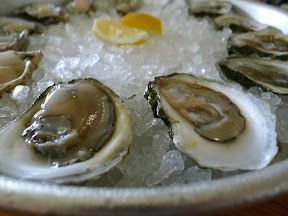 Then some BBQ at JMueller's trailer. This is a new place but the pit master is heir apparent to a BBQ dynasty in Taylor TX. His father Louie is revered throughout the state and trained his son. This place was initially met with trepidation but is winning people over quickly. Us included.
We got brisket, ribs, sausage, and pork shoulder. All slung onto one tray. Served with white bread and raw onions.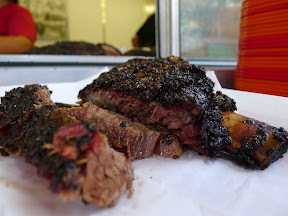 This was exactly the bbq taste and experience we were hoping for in TX. Here is the impressive smoker that made it possible.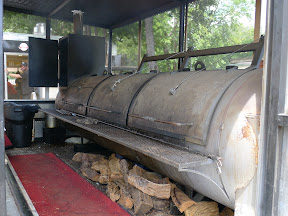 Then we snacked on a cake frosting donut from Gordoughs.
And finished up with a bucket of fried chicken and some Texas caviar at Lucy's.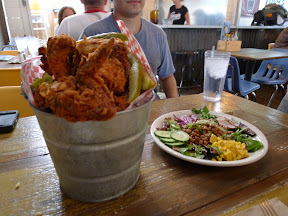 Oh yeah and a horchata with a shot of espresso from El Tacorrido. This is so tasty and simple I wish I had thought of it.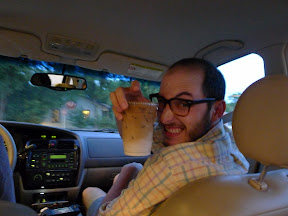 We feel like we did 12 hours in Austin right. Still more to see and more to eat. But we are already thinking about when we can return. As for now we are leaving the Austin city limit and heading to Marfa and the desert. Donald Judd here we come.