Texas is vast and varied. We felt this most acutely when driving deep into west Texas. This desert region bordered by the "big bend" in the Rio Grande is huge. We drove for hours on windswept highways punctuated by sleepy towns...
And arrestingly stark vistas.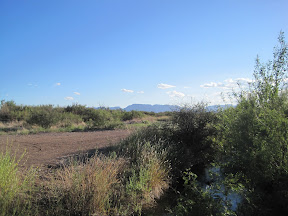 But the most arresting fact of West Texas is that is also home to some of the best minimalist art in the world. Below we are posing in a field of Donald Judd concrete works with our Chicago buddies Daniel and Rebekah.
They are now living in New Mexico learning traditional weaving. But we all met up in Marfa Texas to see this art.
Marfa was a small poor town connected to the railroad surrounded by very little.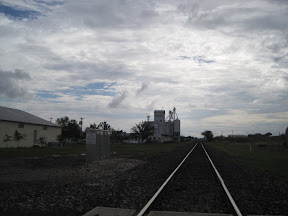 It's still a small town with one street light and little more infrastructure than a grain elevator. But starting in the 60's and carrying on until his death in the 90's the artist Donald Judd starting buying buildings and land throughout Marfa. He used it as a studio space and a place to produce large scale work. As a result he also brought a ton of outside money. This influx of art money has given Marfa a split character.
In addition to be a mostly dusty West Texas town, it also has a specialty foods grocery. With a wide array of fine wines and cheese.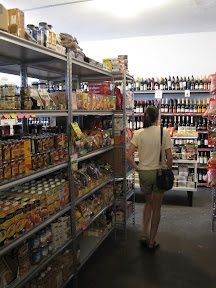 A fantastic book store, with an amazing art book collection. Which out does anything we have in Atlanta.
And it's own NPR affiliate. So we got to listen to Fresh Air while towns down the road only have AM mariachi music.
While there we stayed in a highly designed and trendy campsite called El Cosmico.
They also rent vintage slip stream trailers you can see behind our tents and the wood thingy. Yet another example of weird art trendiness and money.
They also had melons growing everywhere.
And we were walking distance from the Chinati Foundation.
This museum houses Judd's monumental works...
...as well as work by artists that Judd specifically invited to build installations like John Chamberlain.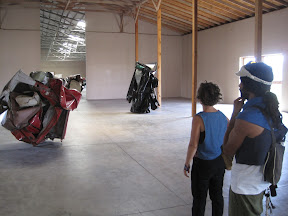 We also went to his studio and library. All very impressive, but a complicated place that left us all a little uncomfortable. Big money and small town make strange bed fellows.
But all this headiness made us very ready for some swimming. So we drove deeper into the desert to a natural oasis. At Balmorhea state park there is a spring that has 70 degree water year round. This pool was build by the WPA in the 30s to funnel the spring water.
Here I am jumping into the 25 foot deep pool.
But since it is the only water for many miles it is a vibrant and dense Eco system. We were suprised to be swimming with all sorts of wildlife including really cool turtles. This is a must if you visit the area.
As for food in these parts we mostly cooked for ourselves.
We enjoyed the grapes planted at the Judd studio.
And our nightly cookouts with friends.
And I was proud of our makeshift refrigerator in the cool springs of Balmorhea.
We had an amazing few days in the desert. But catching up with old friends was by far the best part.
Next Dallas.