Our road trip has taken us from the Appalachians the Ozarks in search of American art. One of the highlights of our trip was a drive to the Northwest corner of Arkansas to Bentonville. The home of Walmart Headquarters and the Crystal Bridges Museum of American Art.
Started by the Walton family it is a palace to culture set into a wooded lot in small town Arkansas.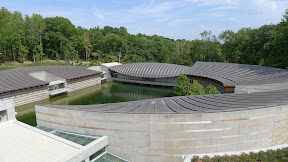 We didn't know what to expect. We were hoping to be dumbfounded, since this is the museum that almost infinite money built. We were not dumbfounded, the collection is solid but conservative. It has a good survey of art from the 1700's to today with almost all the big names but an uneven collection in terms of quality for individual works.
Some of the highlights were Lilly above in a gallery with Albers, Noland, and Benglis.
One of the my most favorite Marsden Hartley
A really great Anni Albers textile work.
And a new commission by James Turrel.
But perhaps we were most surprised by the groundhog we saw on the grounds. You can see him lying prostrate on the middle boulder.
Another unexpected highlight was the beans and cornbread served in the cafeteria.
This is an interior shot of the dining area with a view of the curved roof.
All and all worth a visit. Glad we made it, but we should have tempered our expectations. We were not going to see long lost masterpieces or wildly avant-garde art. But everything was good and even down to the wildlife and cornbread.
Posted using BlogPress from my iP